FROM THE VIEW'S EXECUTIVE CHEF – May's recipe of the month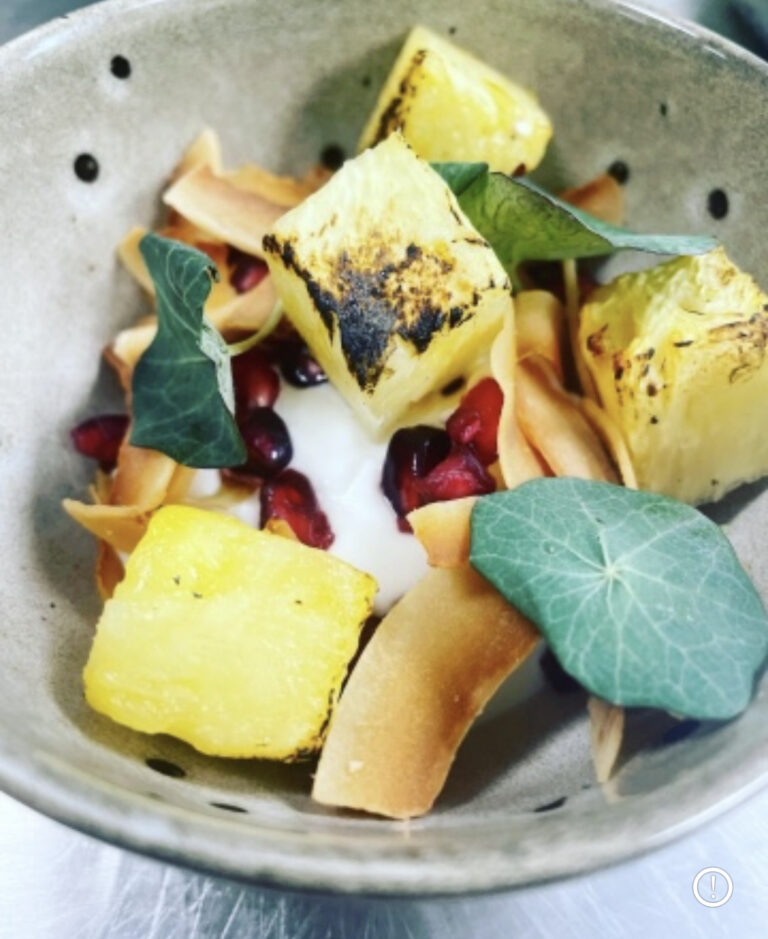 Our Executive Chef, Nick Seckington, has worked hard to create a wider range of vegan dishes and desserts for The View menus. One of his new vegan dessert recipes, a refreshing chilli grilled pineapple with passion fruit coconut mousse and pomegranate dessert, is now available on our summer bowl food menu.

Nick explained 'I have always been passionate about creating vegan desserts, so I started playing with ingredients and started with a classic combination – pineapple and coconut. I had received some vegan double cream as a mistake on an order and wanted to experiment, I tried to whip it thinking it would not whip, so I took out the egg white and added vegan cream cheese, in addition I added a pineapple syrup from the marinated pineapples and put everything together, it's created a light mousse which is plant based and tastes really good. Nick shares the recipe below;

Ingredients;
200ml vegan cream cheese
1 x pineapple cut into squares
500ml vegan double cream whipped
150g icing sugar
2 x chilli's
4 x cardamom pods
5 x passion fruit's
8 x nasturtium leaves

Method
Cut and marinate the pineapple in the chilli and half the sugar, cook and chill.
Whip the vegan cream cheese, pineapple syrup, chilli together.
Whip the cream and fold into the cream cheese, fold in the passion fruit.
Garnish with pomegranate, diced pineapple and nasturtium leaves.