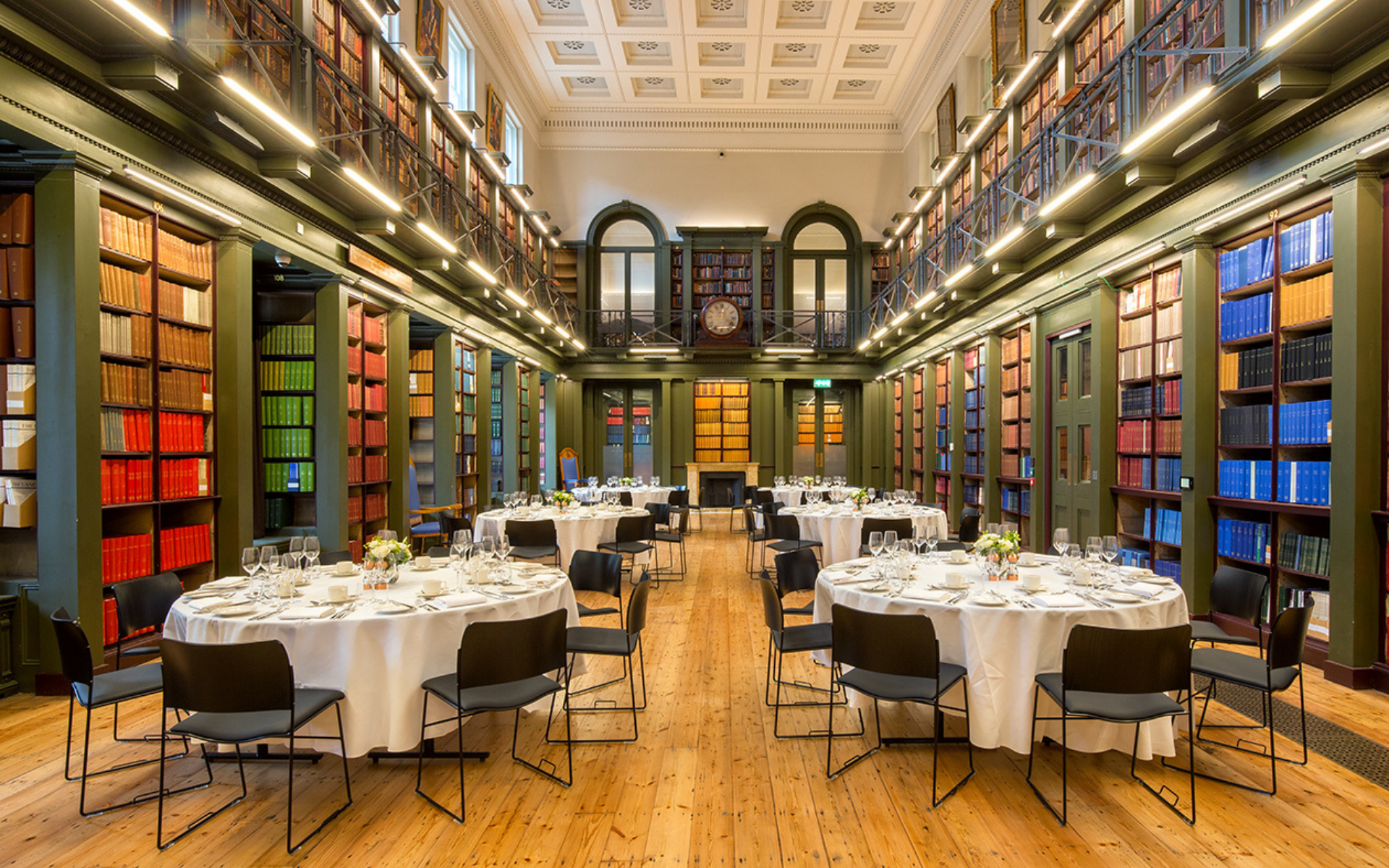 About
Enchanting views, refined elegance. 
Weddings call for sophistication, an elegant ambience and impeccable service. Luckily, our lovingly redesigned event spaces, served by a dedicated team of event planners, provide the perfect combination to bring your special day to life.
Your guests' journey starts with a grand entrance through our historic porch, adorned with classical columns which leads to a spacious lobby featuring distinctive portraits of past Royal College of Surgeons alumni. Our lifts then transport invitees to our book-lined Library Room, which lends an unforgettable sense of period elegance to proceedings. Steeped in history, this heritage space on the first floor houses a medical science book collection noted as Europe's finest since the 19th century.  
The whole building, fully updated in 2021 with ergonomics and sustainability in mind, is cut through with a lightwell of modern polished iron and includes an attractive central staircase surrounded with precious artwork from the College's collection. 
The Library and Erasmus Wilson Room can host up to 80 guests for a seated dinner.  
The modern View, meanwhile, takes over the entire top floor, offering a self-contained destination with numerous opportunities for bespoke decorative flourishes. The space is filled with light and offers an outside terrace with views over London.  Up to 250 guests can be hosted here for a seated dinner, or 300 standing.  
Featuring exceptional modern facilities, and overlooking London's largest public square, Lincoln's Inn Field, The View offers weddings and special events accented by the capital's iconic skyline.  
The unparalleled sense of occasion is upheld by our venue caterer Searcys, whose talented team of chefs are committed to showcasing the best sustainable seasonal produce from the British Isles. Their delicious and memorable dishes are matched with an expertly curated wine list, with guests treated to a glass of Searcys' very own Cuvee Champagne upon arrival.  
Packages are available from £145 per person.